Internal Doors stripped £25.00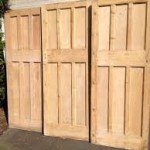 Please read the following before having an item stripped.
The stripping of doors has been around since the early 1980s, removing the numerous coats of paints on each door and leaving a generally good timber surface to prepare and then varnish, wax or oil - or indeed repaint. This also removes the coats of paint that were so thick that they chpped easily and reveals the moulding of the door that was sometimes hardly visible. It is still a very successful method, relatively cheap to do and saves you a great deal of work as well as the costs of materials. However please note the following:
Since the late 1980s many of these stripped doors have now been repainted and the choice of paints has changed dramatically to include water-based and cellulose based paints, for example. These can sometimes create a problems if you now choose to re-dip your door.
Water- based paints are very hard to remove, simply because they are water-based producsts and the process of stripping a door is mainly carried out using a very diluted chemical in water. Cellulose is diffiuclt as it sinks into the top few mm of the door and clings; hence some doors strip hardly at all whilst in others it may lift the grain. This is more noticeable on modern doors and furniture. If the grain does lift the item will be ok, however there is then quite a considerable amount of preparation to be done.
Colour- based stains, particularly the mahogany based stains, are almost impossible to remove - this very heavy red dye has sunk into the surface of the door. All doors that have had any of these treatments therefore come with a warning as once the process of stripping has started we cannot stop it.
Finally sometimes it is just impossible to tell whether a door has had these types of treatment, (perhaps you have just moved house and don't know) so we all then unfortunately just have to take a chance.
We also strip most pine furniture, skirting boards, architrave, spindles - in fact almost anything else you can think of that is made of a softwood
Oak and mahogany do not strip well, in fact we highly recommend you not to use this method. We do however run a hand- stripping service and although this is a more expensive option (it uses more costly chemicals and is carried out by hand) it produces brilliant results with hardwoods and leaves you to do very little further preparation as well as maintaining the value. Another benefit worth considering is that this method will lighten oak etc., making its appearance fit in well with modern decor.